Join our Pride Festivities
Join us for a fun-filled festival and hit the slopes of Marmot Basin.
Receive the following discounts between April 14 - 23 by obtaining your Pride Pass - its free!
Lift Tickets - 20% off at group sales or online with the promo code provided with your Pride Pass.
Rentals - 15% off redeemable in person at the mountain.
Ski School - 15% off redeemable in person at the mountain.
PRIDE FUN RACE - SATURDAY APRIL 15
Lower Dromedary: This year we're holding a fun race on from 10am -12pm on April 15. The race is a head-to-head format, if you win, you race again! You must pre-register to take part. Registration form below. If you do not see the reCAPTCHA the says "I'm not a robot", please refresh the page.
ANNUAL PRIDE FLAG FUN RUN
Join us on Saturday, April 15 with costumes and your own pride flags for our annual pride-coloured Fun Race and guided ski.
The Fun Run will start at 12:45pm at the top of Canadian Rockies Express Quad Chair and we will begin skiing down Basin Run and S-Turns. We will take a break at mid mountain at 1:45 pm, then continue down to the Caribou Chalet at 2:15, finishing at 3pm. Jasper the Bear will also be joining in the festivities!
Visit Jasper Pride for more fun events in Jasper throughout the festival.
BASIN BALLET
Stop my Mid Mountain for the Basin ballet between 1pm and 3pm. If you'd like to take part (no experience necessary), register on our dedicated event page.
After the ballet, prizes will be awarded at 3:30pm on the Coca-Cola deck at lower chalet.
POP-UP PERFORMERS
From 3pm on the Coca-Cola deck at lower chalet, pop-up performers will be in attendance.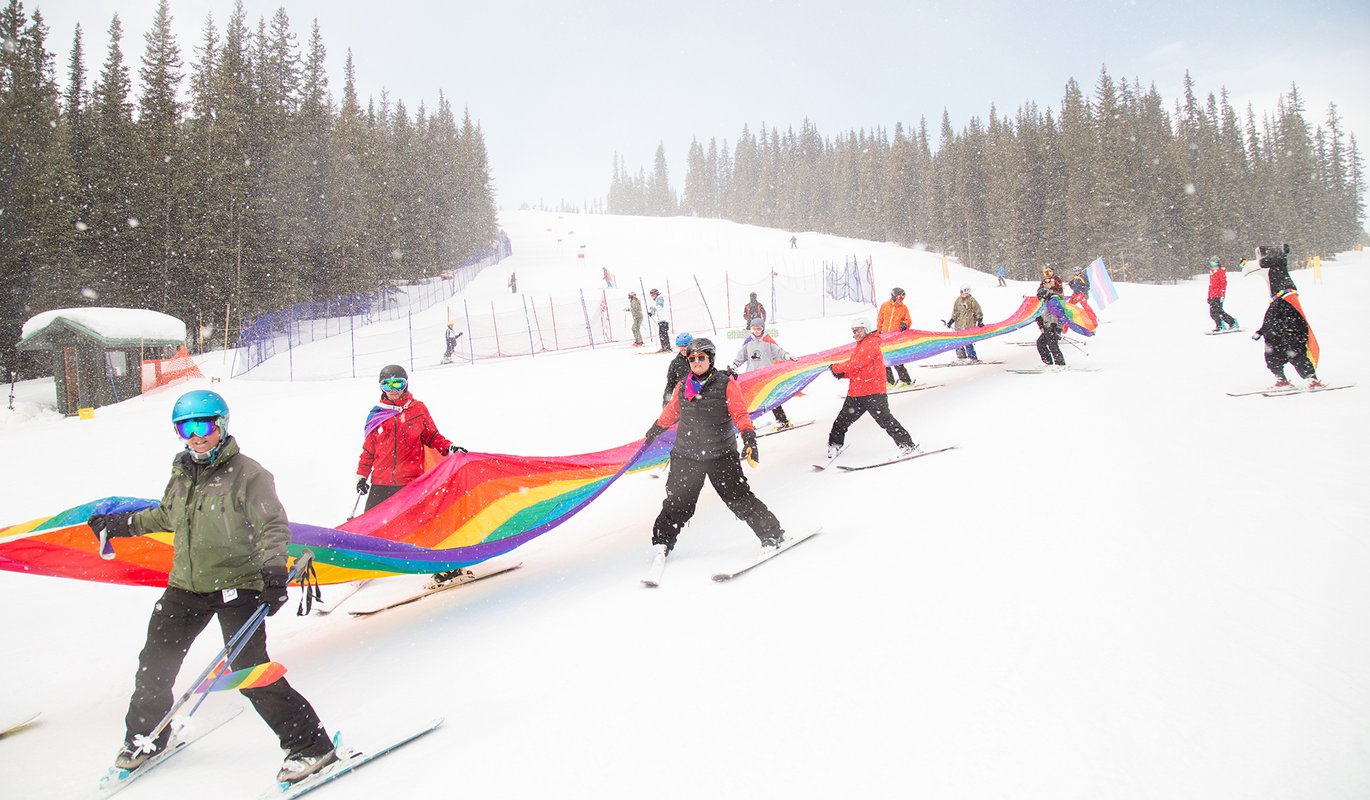 Pride at Jasper SkyTram
Don't forget to present your Jasper Pride Pass at Jasper SkyTram between April 14-23 to receive 15% off flights up Whistlers Mountain and 15% off snowshoe rentals! Please note flights and rentals are subject to availability and can the discount can only be bought in person at Jasper SkyTram.
Visit on April 22 for a free pop up performance from 12:30 - 1pm. More details to be announced soon!