Project Details
The First Long Range Plan outlines four main components that are being proposed to guide development and use for the foreseeable future. The Project components that will be advanced in these plans, by Marmot Basin, are consistent with the provisions for growth and development that are contained in the approved Marmot Basin Site Guidelines (2008).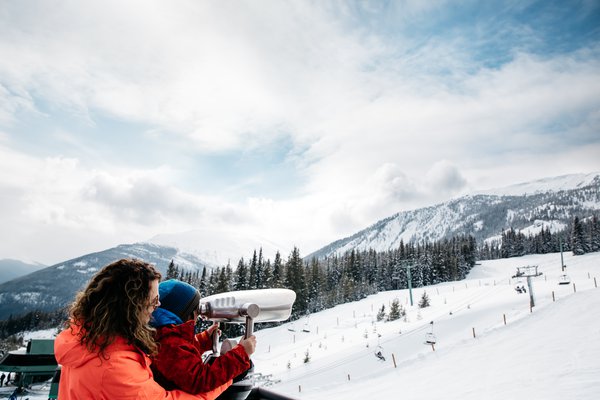 Expand Snowmaking in the Mid-Mountain Area
Construct a new water reservoir to the northwest of the mid-mountain chalets
Increase terrain serviced by snowmaking
Make existing interim snowmaking system permanent by burying water lines
Enhance Parking and Transportation Access
Expand parking lots 1 to 4 for a net increase of 400 stalls
Widen the Marmot Basin road from just above the Caribou Chalet to Lot 4
Additional parking and the expansion of mass transit opportunities will be addressed in the second long range plan submission
Upgrade the Caribou Chalet
Enclose the west-facing deck to increase the public eating area
Add washroom facilities within the existing building footprint
Extend the northend of the chalet to accommodate office space and food storage currently provided in publicly visible trailers and a refrigeration container
Glading on the Slopes West of the Mid-Mountain Chalets
Limited glading associated with Milk Run, Elevator Chutes and Little Chicago
The areas were gladed some 30 years ago but have not been maintained
Glading is now required to permit safe and enjoyable skiing/riding
Ski Marmot Basin has prepared a type of Environmental Impact Analysis known as a Detailed Impact Analysis (DIA) in conjunction with the draft 2014 Long Range Plan. The DIA will comply with the Parks Canada Interim Directive on Implementation of the Canadian Environmental Assessment Act 2012.
Consistent with Parks Canada's Interim Directive, a Detailed Impact Analysis should be applied to any proposed project with potentially significant adverse effects, and/or public concern with respect to ecological integrity, the integrity of cultural resources or characteristics of the environment that are important to key visitor experience objectives. This assessment enables Parks Canada and Ski Marmot Basin to develop measures to avoid and mitigate environmental effects where possible.
The DIA will be based on information provided in a number of earlier studies, as well as additional surveys for amphibians, birds, aquatic conditions and stream flows, and vegetation, including rare plants. The DIA will focus specifically on topics of special concern as identified in a Strategic Environmental Assessment prepared by Parks Canada.
Future Long Range Plans
Ski Marmot Basin intends to submit a second long range plan for Parks Canada consideration and public review in future years. Marmot Basin and Parks Canada are collaborating on two wildlife studies as part of the future Long Range Plan:
Mountain Goat study
Caribou Risk Assessment
These studies will shed new light on habitat features and local movements by mountain goats and caribou and will be used in the long-term planning process under the site guidelines. Information on the research findings will be publicly available. The studies are not pertinent to the project components being advanced in the 2014 long range plan. However, they serve as positive examples of the care being taken in advancing ski area plans, the level of collaboration between the ski area and Parks Canada and of Ski Marmot Basin's commitment to responsible environmental stewardship.
We're Green Year Round.... Environmentally That is
Protecting and enhancing the environment remains at the forefront of our corporate objectives.